If you are a Hotmail user, you might have gone through some issues like password recovery, login problems and so on every once in a while. Since you couldn't resolve those issues, you might've wanted to contact the support Team to seek help and advice. But you had no idea about how you could actually contact the Hotmail Support Team. Well, if that's the case, you aren't the only one facing such issues. There are many people out there who do not know how they can actually contact the support team in the need of emergency.
Today we'll be discussing the different ways that you can use to contact the Hotmail Support Team when in need. You can use any one of the following ways to contact the support team. So, make sure you go through all the different ways to contact the Hotmail Support Team so that you won't have any problem in the future.
Here's a complete step by step guide that might help you if you want to connect with the Customer Care Service of Hotmail:
Note: Hotmail has now become an outlook.
How to contact Hotmail Customer Support?
1.Go To your web browser and then go to Microsoft official site or directly click to this link https://www.microsoft.com/en-us.
This will lead you to the Microsoft official website.
2. Then go to the Support option shown on the right side of the navigation bar.
Here you will find the list of services provided to you by Microsoft. You can either choose from the list of services depending upon the service you seek help with. Or, Go to step number 3.

3. Go to the top left corner of your screen. There you will find the Contact us option. Click on that link.
4. Once you click the Contact us option following screen will be displayed on your screen.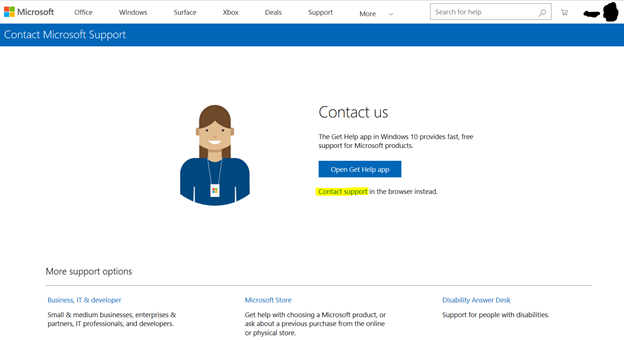 5. Click on the Contact support link as highlighted in the above picture.
6. Once you click the Contact Support link the next window will pop out on your screen as Microsoft virtual agent.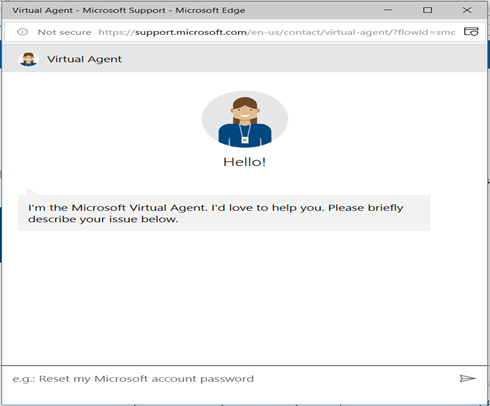 7. There you type your query.
Note: Microsoft Virtual Agent is an automated chatbot that helps to solve your common issue through Q/A.
If you still could not find the solutions to your problem then you can directly contact the Outlook Customer Support through Phone Number.
How to Contact Hotmail Support Team by Phone?
In case you want to directly talk to the Hotmail Support Team via phone then follow these steps:
Go to your favorite browser.
Go to the Microsoft official site and then go to the Search bar.
Type Global Customer Service and then press enter.
This should redirect you to the following page.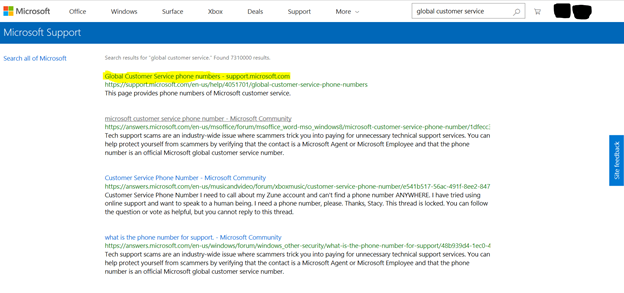 4. Click on the very first link of Global Customer Service. This should redirect you to the following page.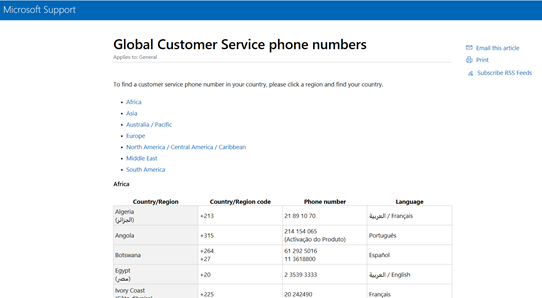 If not then click on this link to automatically redirect to the Global Customer Service page: https://support.microsoft.com/en-us/help/4051701/global-customer-service-phone-numbers.
Now scroll down and search for your region and find out the official support team contact number as per your location.
You can now place your query to the Customer Support Team.
Note: The Customer Support number is available 24/7 to help you out with your queries.
How to Block a Sender in Hotmail?
Emails are very essential these days as you get a lot of information through it. So you must manage your emails and refine them once in a while.
If someone is continuously bothering you and sending bulk emails, you can block them and stop getting mails from those accounts.
Here's a step by step guide on how to block the particular sender or email address on Hotmail/Outlook.com. 
1.First Log in to your account.
For this, you can go to Hotmail/Outlook official site or simply click on this link https://outlook.live.com/owa/ and then click on the sign-in option shown on the top right corner of your screen.
2. A login form will appear on your screen. Enter your login email and password to sign in.
3. Once you have logged in to your account, go to the Inbox or Junk Email folder and search for the mail address that you want to block.
4. Now open the specific mail.
When you open the inbox something like this will be displayed on your screen.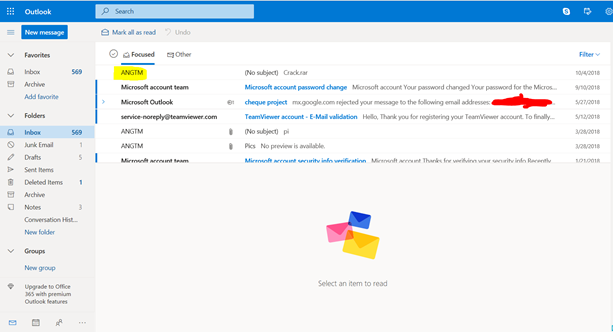 5. Now Select or Open the mail from the sender that you want to Block. Suppose in this case I want to block mail from ANGTM as highlighted on the screen.
Once you select the mail you will see different options displayed on top of the mailbox.
6. Now click on the Sweep option from the menu and select Move all messages from the inbox folder and any future messages as shown below: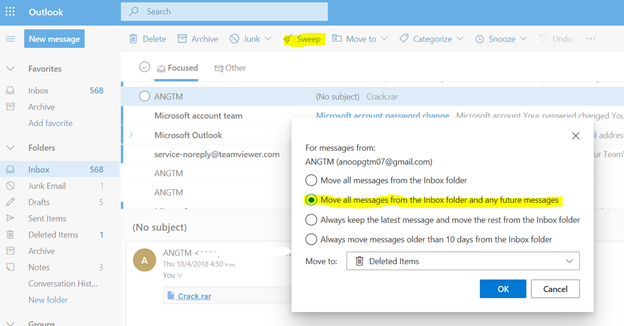 After clicking on Ok the following Success message box will be displayed on your screen.

OR
Follow the same instructions up to Step 4 and go to step a.
A.Now right click on the mail and go to the Block Option as shown in the picture below.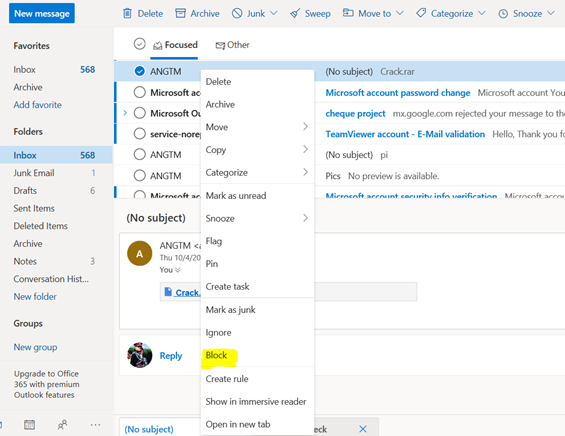 B.Click on the Block option and you will be asked to confirm your choice.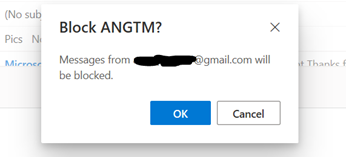 C. Once you click on OK the user is permanently blocked and you won't receive further mail from the user.
In this way, you can Block anyone with their mail address once they are listed in your mailbox.
How to Unblock Email Addresses in Hotmail?
In case you need to unblock a sender from your blocked list and are wondering how you can do so here's a stepwise guideline that you can follow.
The steps given below are very simple and easy to understand. So make sure you go through them one at a time in order to unblock a blocked sender.
1.First, log in to your Hotmail or Outlook account.
2. Now go the Settings icon displayed on the top right corner of your screen.

3. Click on the icon and then you will see the setting options displayed on the screen.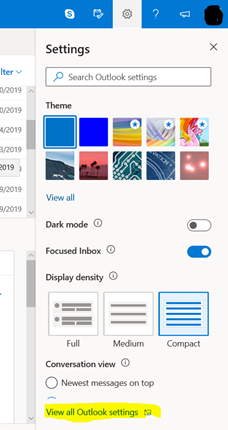 4. On the bottom of your screen click on the View all Outlook Settings.
5. Now you will see the new settings tab displayed on the screen. Go to the Mail > Junk email.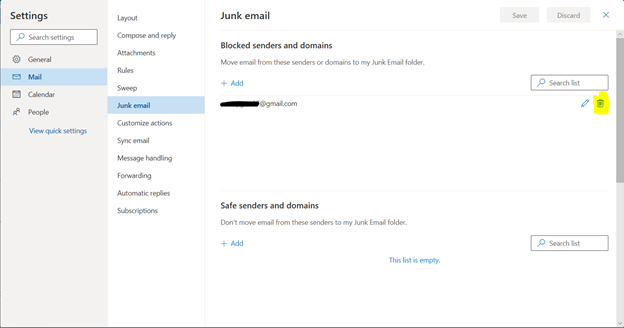 Here you see the list of email addresses that you have blocked previously.
6. Now to unblock them simply click on the Delete icon, shown on the right corner of the mail address.
7. Click on the Save button on the top right corner and you are done with unblocking the user.
The User that you have selected will be unblocked and you can now send and receive emails from that particular user.